Rambles in Haute-Loire… in the heart of the massif of Mézenc and the wild Loire (massif du Mézenc et de la Loire Sauvage)
Towering in the middle of a set of high lands and of its main valley, the massif of Mézenc dominates by this 1753 meters in height. And it's in this massif of Mézenc et Loire Sauvage that you'll be able to see, from June a diversified flora (violets, gentians, blueberries…) within a preserved territory, and, for the luckiest, the surprising and protected fauna (otter, Eurasian eagle owl…) of the young Loire.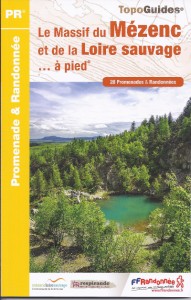 Not-to-be-missed circuits in the area
Le Tour du Mont Mézenc (medium, 12.7 km, around 3h30): around the Mount Mézenc, discover the spectacular landscapes that surround this itinerary, with the ascent to the summit which will offer some beautiful views.
La Vallée de l'Aubépin (very easy, 2.3 km, around 40 minutes): near Moudeyres, leave for a stroll to discover the waterfall of Souteyros, the farm of the Perrel brothers (ferme des frères Perrel) or even the high valley of L'Aubépin.
Le camp d'Antoune (medium, 13.1 km, around 3h10): go around the antique fortified camp of Antoune and discover the Loire which weaves in the bottom of the valley.
Circuit des Chaumières (hard, 15.7 km, around 4h): discover the rural life from the high plateau of the Mézenc and visit the ecomuseum thatched cottage of Bigorre.
To go hiking appropriately equipped, carry the guidebook of the territory in question is an undeniable must. Consequently, the guide book FFRandonnée Le Massif du Mézenc et de la Loire Sauvage will turn out to be the essential tool and will allow you to discover the territory through 28 rambles and strolls, for a day or just an afternoon, accessible by everybody thanks to the different levels of difficulty.
To learn more about it, you can go the page specifically dedicated to the guidebook FFRandonnée Le Massif du Mézenc et de la Loire sauvage or get in touch with our team!