Towards Santiago de Compostela, some hiking holiday
Take advantage of your vacation to travel along the GR 65 Way of Saint James, in one or several days.  About 10 days are necessary to go from Le Puy-en-Velay (Haute-Loire) to Conques (Aveyron) and discover the charm of one of the most beautiful villages of France. Whether you are a beginner or a trained walker, you'll be able to walk on the steps of a millennium pilgrimage itinerary.
Walk with an easy mind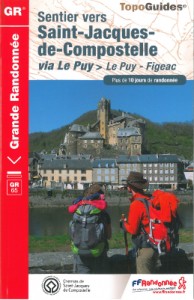 To prepare and follow your stop-overs on the GR 65 Way of Santiago de Compostela, the guidebook FFRandonnée is the most reliable tool. The maps and the descriptions of this TopoGuide are made by hiking professionals, who know the field and its difficulties. And it's also the most complete because it is the only one that gathers all the useful information:
A prelude to discover the town of Le Puy-en-Velay,
The IGN maps with the route of the GR 65,
A description detailed step by step,
The accommodation along the GR 65 with their contact details,
Some explanatory sheets to educate yourself while walking,
The included services and useful addresses.
Long story short, this guidebook cannot be overlooked by the walkers… And it only weights 187 grams!
The first step towards Compostela…
For the walkers of all levels, who want to do the first stop-over departing from Le Puy-en-Velay, many possibilities:
From Le Puy-en-Velay to Saint-Christophe-sur-Dolaizon: 8.5 km, about 2h30 of hike (for everybody).
From Le Puy-en-Velay to Saint-Bonnet: 17 km, about 4h of hike (medium walker).
From Le Puy-en-Velay to Saint-Privat-d'Allier: 24 km, about 6h of hike (good walker).
For more information about the shuttle, see with the Tourist Office of Le Puy-en-Velay.
… For 2 stop-overs and more!
For the walkers who want to pursue the adventure, the second stop-over will make you cross the gorges of Allier, wild and steep-sided. You will then climb on the granitic plateaus of Margeride to reach Saugues, land of the Beast of the Gévaudan.
Will then come the Domaine du Sauvage and its millenary hospitality house, to reach the deserted plateaus of Aubrac. And finally, you will lose altitude near Conques (in 10 days) or even Figeac, in the valley of Lot (12 days). No matter where you will stop your adventure, the teams of la Malle Postale will accompany your trip back to Le Puy-en-Velay.