"Robe de bure et cotte de mailles", you can't remember its name… you will remember its landscapes!
This walk, of an unlikely name, is made for lovers of landscapes and especially heritage! In 9 days of hike and 163 km, you will go in the gorges of Allier, between Langeac and Saint-Arcons-d'Allier, then will enter the Livradois-Forez Regional Natural Park to join the medieval village of Allègre, then La Chaise-Dieu and its unavoidable abbey. Will then come the rolling footpaths along the Senouire, with the castle of Domeyrat or even the octagonal steeple of the church of Lavaudieu.
Preparing your stop-overs
The GRP Robe de bure et cotte de mailles is a loop of 163 km which can be travelled in 9 days, in accordance with the stop-overs mentioned below. The average length of a stop-over is about 18 km, which makes it a GR accessible for everyone.
Day 1: from Langeac to Chanteuges, 19 km (about 4h45 of walking)
Day 2: from Chanteuges to Chavaniac-Lafayette, 15 km (about 3h45 of walking)
Day 3: from Chavagniac-Lafayette to Allègre, 21 km (about 5h15 of walking)
Day 4: from Allègre to La Chaise-Dieu, 21 km (about 5h15 of walking)
Day 5: from La Chaise-Dieu to Saint-Didier-sur-Doulon, 18 km (about 4h30 of walking)
Day 6: from Saint-Didier-sur-Doulon to Lavaudieu, 19 km (about 4h45 of walking)
Day 7: from Lavaudieu from Villeneuve-d'Allier, 18 km (about 4h30 of walking)
Day 8: from Villeneuve-d'Allier to Chilhac, 18 km (about 4h15 of walking)
Day 9: from Chilhac to Langeac, 15 km (about 3h45 of walking)
Of course, these stop-overs can be changed according to your capacities and of the accommodations available.
Accommodations and services available on the GRP « Robe de bure et cotte de mailles »
Different types of accommodations are available on this long distance hike: bed and breakfast, stopover gîtes, campsites or even hotels. You will find a list of these service providers in the TopoGuide, the useful guidebook or even in our page about the accommodations. Do not hesitate to contact them to book your stay as of now.
The service providers as the luggage or people carriers are not really developed on this walking trail. Nevertheless, you can contact one of our partners that will draw up a quote for you. On request, some hosts can sometimes provide this kind of service.
Come to Langeac
The municipality of Langeac is situated on the banks of the river Allier, West of Haute-Loire and gather around 3800 inhabitants. It's the starting point of the GRP Robe de bure et cotte de mailles which heads towards the South, in the direction of Pébrac then Chanteuges.
From Le Puy-en-Velay, around 40 minutes of car are necessary to reach Langeac. If you're coming from Lyon, is around 2h20. And from Clermont-Ferrand, you will need around 1h20. Let yourself be led by the map below.
TopoGuide and IGN maps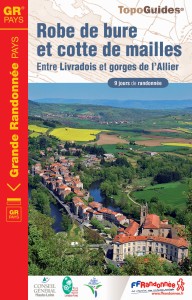 The guidebook is the mandatory element to prepare you walk on the GRP "Robe de bure et cotte de mailles". It contains a supply table to prepare your stop-overs, a list of the accommodations, IGN maps and the description step by step of the path, as long as some factsheets about the fauna, flora, heritage, etc.
In case of "off-trail", you can complete your guidebook with the following IGN maps, scale 1 : 25 000:
2635E Langeac,
2735O Loudes,
2734O Allègre,
2634E Paulhaguet,
2634O Brioude,
2635O Lavoûte-Chilhac
Overview on an IGN map, scale 1 : 100 00, ref. 156 – Le Puy Privas
The items above are available on our online shop or directly in our shop in town, in Le Puy-en-Velay.

Articles to read
Page about the GRP Robe de bure et cotte de mailles
Useful and advice, be well equipped for your hike