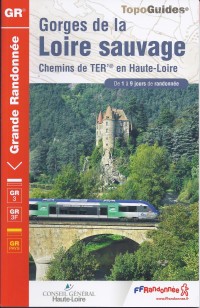 The union of the hike and the train
Path of TER'®, designation made in Haute-Loire, is an offer of hike which allies walking and train. The walking allows the discovery of the gorges of Loire, from Aurec-sur-Loire to Le Puy-en-Velay or the other way round, if you want to leave by the West side. The line of railroad is present all along the route.
A preserved nature
This route in Haute-Loire, on the GRP® Gorges of the Wild Loire, in a Natura 2000 zone (network of nature protection areas in the European Union), will make you discover a preserved nature. Many species of birds inhabit the banks and hills. Further, a rich heritage appears before your eyes: the castle of Rochebaron, the one of Lavoûte-Polignac or still the one of Polignac, perched on its volcano.
In the gorges of the wild Loire
The Loire is the last wild river of Europe. Here and there, the depth of the gorges of Loire matches with this designation. During the steps you will stand alongside the Loire, in the heart of the valley… Elsewhere, you'll reach the neighboring plateaus where some splendid landscapes of Haute-Loire open before your eyes. In many places the volcanism will appear and astonish you.
The common theme: the Loire – the common thread: the TER train.
This mobility offers numerous possibilities: either a complete loop of 200 km in 9 steps, or the choice of one or many steps at your discretion, according to your availabilities. You can start you walk wherever you want, as this GR allows the walker to go to its starting point by train and then walk, or the other way round.
The route sometimes follows the right bank, sometimes the left one, taking advantage of the crossing points of the river. The markings will take the colors yellow and red when you walk on the GRP® and white and red when you'll be on the GR® 3 et GR® 3F.
The railroad, a men's building
The railroad is present all along the GRP® Gorges of the wild Loire. Starting from Le Puy-en-Velay, it reaches Saint-Etienne-Châteaucreux. This men's building has been opened to the public by stages. The complete link between the administrative centres of Haute-Loire and Loire has been working since May 14th, 1866. This way weaves in and out the hollow of the wild valley of Loire. Tunnels, bridges and viaducts succeed one another all along this long journey.