Randofiches around Le Puy-en-Velay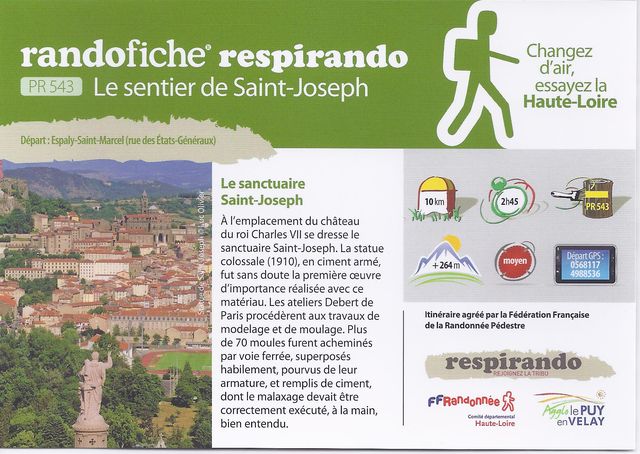 Walks in Le Puy-en-Velay
At the heart of Haute-Loire, Le Puy-en-Velay shines by its architectural wealth. Start of the Way of Saint James and designated a UNESCO World Heritage Site, the historical area of the town is an inescapable for some holidays in Auvergne. The strolls proposed will make you discover remarkable views of Le Puy-en-Velay and its surrounding area.
The hikes in Le Puy-en-Velay: the Saint-James and so much more!
This pack is made of 16 Randofiches*. The tours will enable you to discover some walks in Le Puy-en-Velay and its surroundings (15 minutes away max by car) and allow to discover Le Puy-en-Velay and its region from any angles. The views on the Loire and its gorges, the waterfall of La Beaume or the medieval castle of Polignac will almost make forget that Le Puy-en-Velay is an historical start of the way of Saint-James.
The strolls present in the guide are planned as well for the beginners as for the harden walkers. Their lengths vary from 45 minutes to 5 hours. They are certified Respirando (local label which guarantees to make pass the walks on public paths, with as less of tarmac as possible, with a follow up and maintenance of the markings…) and marked in yellow by the local council communities.
The tours of this pack of walks in Le Puy-en-Velay and its surroundings can be done all year long (except particular winter conditions).
*Note: the term Randofiche® designates a field-based tool which allows to cross a hike in loop, including an IGN map and all the necessary information.
Cliquez sur les marqueurs pour afficher le détail du circuit

Très facile

Facile

Moyen

Difficile