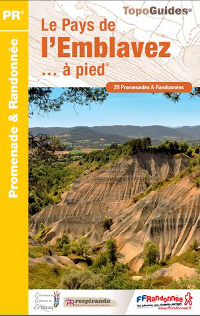 The Emblavez, hike between the gorges of Loire and Sucs*
The guidebook of L'Emblavez includes 20 tours of walks near Le Puy-en-Velay.  Territory forged by the gorges of Loire, the tracks of Emblavez can have high differences in height. Families will also find what their looking for with shorter walks, offering views on the Loire or the ravine of Corboeuf.
Gorges of Loire, volcanism and heritage
The paths of Emblavez will make you discover the gorges of Loire or the Arzon where you'll be able to enjoy a walk at the water's side…but be careful with the high differences in level! Many volcanic Sucs will give you access to some surprising panoramas on vast horizons. The ascents of the sucs of Jalore, of Cèneuil or of Bartou will delight your eyes and cameras…
Some easier and accessible strolls will make the families happy, as the ravine of Corboeuf or the tour of the Suc of Chalas. The lovers of heritage will be able to see the castles of Lavoûte-sur-Loire, of Artias and the donjon of Roche-en-Régnier while walking.
Useful information about the walks of Emblavez
The guide of walks of Emblavez contains 20 tracks adapted to everybody. Their lengths are between 1h10 and 4h45. They are passable most part of the year but the winter conditions can sometimes make some tracks impassable. The walks starting from the bottom of the valley can have some high differences in height, a good physical condition.
To do in Emblavez
For your holidays, besides walking, many activities will be offered to you in Emblavez (canoeing, fishing, swimming, etc.). For further information, do not hesitate and contact the Tourist Office of Emblavez.
Access and transportation
The Emblavez is situated at about 30 minutes by car, in the North of Le Puy-en-Velay. It is served by the SNCF line (train) Lyon – Saint-Etienne – Le Puy-en-Velay, which makes of it a place easily accessible with public transportations. The train incidentally offers beautiful views on the Loire and its gorges.
*Note: a "Suc" is a specific volcanic hill of Massif Central, an area of France.
Cliquez sur les marqueurs pour afficher le détail du circuit

Très facile

Facile

Moyen

Difficile