The Highlands of the Velay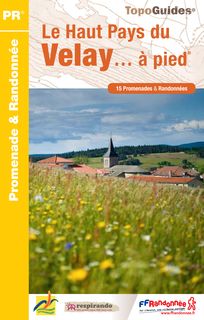 The Haut Pays du Velay by foot
The walks of the guidebook of the Haut Pays du Velay are situated in the North-East of Haute-Loire. This neighboring territory with Ardèche and Loire is formed by high plateaus and small valleys where are planted numerous forest. Besides the strolls suggested, a detour by Saint-Bonnet-le-Froid imposed itself for the amateurs of gastronomy.
Walks, harvesting and gastronomy
The guidebook of the Highlands of the Velay presents 15 tracks of walks around Montfaucon, Dunières or Saint-Bonnet-le-Froid, the gastronomic capital of the county. Vast forests, where abound mushrooms, blueberries and other wild berries, will lavish the harvesting lovers. An ascent at the summit of the Grand Felletin (1387 m in height) will open to you a horizon on the high Ardèche and even the Alps… Tours of all levels are listed in this guidebook, for the delight of the small ones and grown up.
Usefull information
The strolls present in the guide are planned as well for the beginners as for the harden walkers. Their lengths vary from 45 minutes to 5 hours. They are certified Respirando (local label which guarantees to make pass the walks on public paths, with as less of tarmac as possible, with a follow up and maintenance of the markings…) and marked in yellow by the local council community of the Haut Pays du Velay.
The tours of this pack of walks in Le Haut Pays du Velay can be done from April to October (except particular winter conditions). The rest of the year, the snow may lead you to practice cross-country skiing and snowshoeing on this territory.
Cliquez sur les marqueurs pour afficher le détail du circuit

Très facile

Facile

Moyen

Difficile