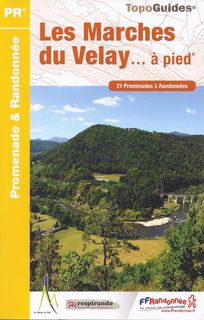 Near Saint-Etienne, between Loire and Dunière
Near Saint-Etienne and Lyon, the territory of the Marches du Velay offers walks of all levels in the valley of Loire et of Dunière, but also on plateau offering views on the Sucs* of the Velay and the Mézenc.
The territory of Les Marches du Velay
Situated in Haute-Loire, at the gates of the region Rhônes-Alpes, the territory of the Marches du Velay is only 15 minutes away from Saint-Etienne and about 1h15 away from Lyon, by road. It is also well served by the public transportation as it's accessible by the train line Lyon – Saint-Etienne – Le Puy-en-Velay.
It's a territory with a very diversified nature where we can, during a ramble, find relaxation and serenity. The edges of Loire offer a sweet and enjoyable climate whereas the plateaus, of middle altitude, can be cooler and invigorating!
Some paths, with remarkable views, make the walkers discover some plunging views on the Loire, its tributaries and their striking gorges. On the plateaus, some panoramas with huge horizons offer, on the other hand, views on the sucs of the Velay or on the mount Mézenc. The walker then travels on paths with multiple green and wooded landscapes.
Useful information and markings of the hikes
The guidebook of Pays des Marches du Velay is made of 21 walks. The tours are situated in the edge of Loire, in Beauzac or Monistrol-sur-Loire. Some strolls are also proposed in Saint-Sigolène, Saint-Pal-de-Mons in order to discover the gorges of La Dunière.
The rambles present in the guide are planned as well for the beginners as for the harden walkers. Their lengths vary from 45 minutes to 5 hours. They are certified Respirando (local label which guarantees to make pass the walks on public paths, with as less of tarmac as possible, with a follow up and maintenance of the markings…) and marked in yellow by the local council communities.
The walks in the Pays des Marches du Velay can be done all year long (except particular winter conditions).
*Note: a "Suc" is a specific volcanic hill of Massif Central, an area of France.