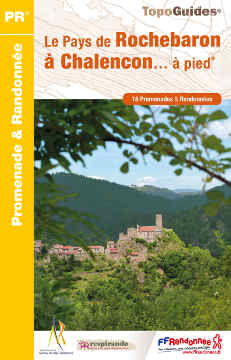 The land of Rochebaron to Chalencon
In the North of Haute-Loire, the territory of Rochebaron to Chalencon offers an ideal playground for the hikers. These walks will give you the opportunity to discover an outstanding nature especially with the gorges of Loire, Ance and Andrable, but also a remarkable heritage with the castles of Rochebaron, Chalencon or even the bridge of the devil…
The guidebook of the "Pays de Rochebaron à Chalencon"
Inside the guidebook of Rochebaron to Chalencon, 18 hiking tours are suggested. From easy walks of about 1h30 to sportive hikes f more than 6 hours… there's something for each level!
Each walk includes a detailed IGN map as well as a description step by step of the tour. One can also find useful information (parking lot, starting point of the walk, difference in height…) and information about the place to see near the walk.
To get the Topoguide of the "Pays de Rochebaron à Chalencon", go to our shop online.
Quality and marked hiking tours
These walks are marked in yellow by the Municipalities Communities of the Marche du Velay – Rochebaron. Each tour has a sign at its beginning and yellow marking along the way.
The hiking trails' certification label Respirando is a quality assurance:
Itinerary following the public property
Ways with less than 30% of tarmac
Signage system and markings on each tour
Secured and regularly maintained ways
The walks in the Topoguide "Rochebaron à Chalencon" have been scouted out, on the field, by professionals. However, we advise you to keep the guidebook within easy reach. Our playground stays the nature… therefore, the markings can fade or be hidden by the vegetation… Thanks to the details of the maps and the description of the path gathered in the guidebook, you'll be able to follow the right way!
To download the tracks
PR 106 Le Tour du Malorum – PR 193 Le circuit de Pieyres –
PR 196 Les gorges de l'Andrable –PR 198 Les gorges de l'Ance –
PR 206 Le bois du Bès – PR 210 Le Moulinet –
PR 212 La vallée de l'Ance – PR 430 Le pont d'Angelard –
PR 442 Saint-Roch – PR 659 Autour de la Bloue –
PR 661 Le Moulin de Canel – PR 666 Le pont du Diable –
676 Le Tour des étangs – PR 677 Les balcons de Malvalette –
PR 678 La Chapelle Saint-Régis – PR 679 Le circuit des Planchettes –
PR 681 De Chomont aux Côtes – PR 682 Les plateaux de Saint-André