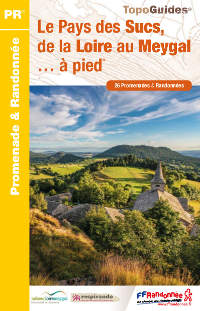 Hiking between Sucs, Loire and Meygal
Located between Le Puy-en-Velay and Saint-Etienne, the massif of Meygal is a territory of Haute-Loire marked by the volcanism. Dominated by the Mont Testavoyre (1436 m), numerous Sucs will offer you splendid panoramas.
You will also be able to span many rivers and streams or even walk along the Loire and peacefully enjoy a stroll at the water's edge.
The guidebook of "Pays des Sucs, de la Loire au Meygal"
The guidebook of « Pays des Sucs, de la Loire au Meygal » includes 26 walks and strolls. These tours can be travelled in 45 minutes for the easiest ones and in 5 hours for the hardest. Each track of the Topoguide includes:
An detailed map of the itinerary,
An accurate description of the walk,
The length and duration of you hike,
Some useful information (location, parking lot, difference in height, markings, difficulties…),
Some ideas of places to visit on the way or in the region.
Markings of the hikes
A sign at the beginning as well as a yellow markings are visible on each walks. Local governments of the Sucs and Mézenc Loire Meygal are responsible of this markings. However, our playground stays the nature…consequently, the markings can fade away or be hidden by the vegetation… Keep your Topoguide close!
Hikes of quality
The hikes in the guidebook have been looked over and describes by skilled workers. Thus, no nasty surprise, approximate routes or even dangerous pathway! You are therefore assured to walk worry free.
Weather conditions on the massif of Meygal
The walks in the "Pays des Sucs et du Meygal" can be made all year long. However, in winter time, the snow will give you the opportunity to do cross-country skiing and snowshoeing in the territory.
Discovering the region of the massif of Meygal and Sucs
 Volcanoes, rivers… the ideal territory to go hiking
Near Le Puy-en-Velay, it's a spectacular territory shaped by numerous volcanic domes (sucs). Most of them are accessible by foot and offer to the hikers a 360° horizon on the Velay, but also the massif of Mézenc or the plateaus of the Lignon.
The Ramel, Lignon and Ance which end in the Loire and cross the Pays des Sucs. The hikes which sometimes follow these streams will lead the walkers to jump over some of them!
Castles, "maisons d'assemblées" and churches
The vestiges of the castle of Artias, at the side of Loire, are a must-see and give a remarkable point of view on the river.
In addition, the abundance of churches and "maisons d'assemblées" present in the villages and hamlets form an important part of the heritage of the Pays des Sucs et du Meygal.
Usedul links
Your accommodations in Haute-Loire
Tourist office des Sucs aux bords de Loire
Tourist office Mézenc Loire Meygal